Arsenal and French Football related articles from a student in Political Science and Physical Geography at McGill University.

To contact me: ulysse.pasquier@gmail.com
Follow me on twitter: @ulyssep
★
Two goalless draws, misfiring new strikers, a Mancunian Van Persie wondergoal. All the ingredients are there for the overzealous pessimism that has surrounded Arsenal in recent years to thrive as we settle in this new season. The Premier League has only been back for two weeks and already that one irrational thought is ringing in the back of Arsenal fans' minds: "What if Arsenal actually never score again without Robin Van Persie?". Naturally the goals will come, but what will be more interesting to see is who will be taking charge of the scoring responsibilities.


(via afootballreport)Tags: Adebayor Fabregas Nasri RVP Arsenal Wenger Football premier league Gervinho
★
By Ulysse Pasquier, writing from Montreal
Anyone who follows football knows the amount of emotion that the sport can bring in a split second. From total despair to intense euphoria, every fan is ought to have experienced his fair share of hair-raising moments. What happened at the Emirates yesterday however transcended all these feelings. Seeing Thierry Henry warm up wearing the Arsenal colors was already a nostalgic treat every Gooner could savor. His match-winning goal however was out of this world and truly of fairytales. Much like a taste or smell that can resurrect forgotten memories, witnessing his so familiar trademark finish brought me back to a time I thought was lost, a time when I first became interested in football because I heard this Frenchman was ruling the pitches of England.
(via afootballreport)Tags: Arsenal Thierry Henry Legend FA Cup Goal Football
★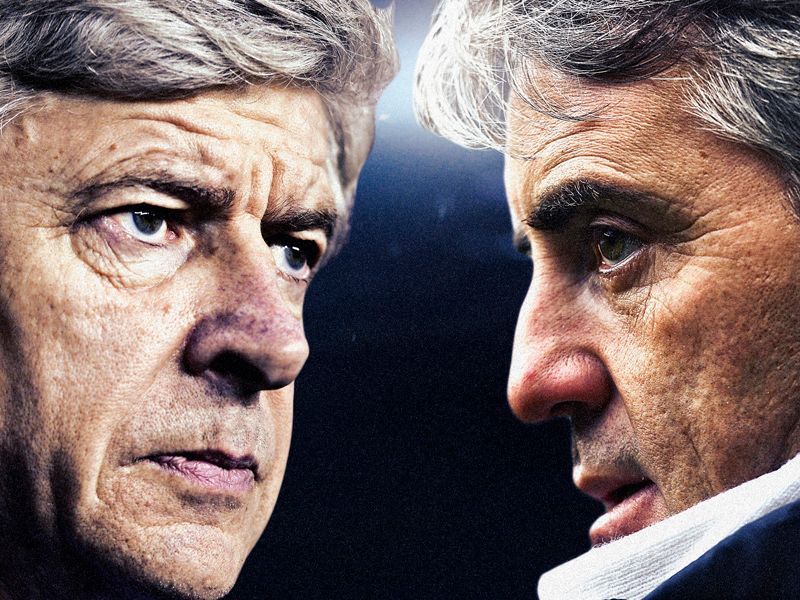 By Ulysse Pasquier, writing from Montreal
Football clubs do enjoy their deadline drama it seems. These last couple of days have been so hectic it has become difficult to keep track of my Twitter feed every single deal, and the transfer window is not even closed yet! We can expect more signings in the next 24 hours that could shape the rest of the season, notably in the Premier League with much of the attention focused on Arsenal. The Gunners have been incredibly busy since their humiliating defeat at Old Trafford, getting their hands on Park Chu Young from Monaco while waiting for Andre Dos Santos and Per Mertesacker to follow the South Korean to North London. Arsene Wenger has had a very worrying start of the season, to say the least, and Arsenal's top four spot is already severely threatened, only three match-days into the new campaign. Whether this new found taste for spending is a reaction to this weekend's loss or part of "Le Plan" is irrelevant, however after Manchester City's performance at White Hart Lane, it could very well be Wenger's despairing attempt at saving Arsenal's seat in the Champions League. 
(via afootballreport)Tags: Arsenal Dos Santos Football Manchester City Mertesacker Park Transfers Ulysse Pasquier premier league Hazard
★
By Ulysse Pasquier, writing from Montreal
Ignoring the result, the first leg between Arsenal and Barcelona at the Emirates was everything we had hoped for. The amount of precision in both teams' passing and control made the game a joy to watch for anyone passionate about football, Gooner or Culé. Although not lacking the excitement and controversy, Tuesday's match was somewhat disappointing in terms of the quality of play with only one team coming out of the gates. Indeed, the first half couldn't have been more one-sided with waves of Messi-led attacks leaving Arsenal gasping for air. Sadly, the turning point of the game wasn't the Argentinian's genius touch to set up the first goal, or any other piece of football magic but a jaw dropping decision form the referee instead. The second half looked promising with the Gunner's unlikely equalizer bound to open up the game and yet we barely had time to say "game on" before Mr. Massimo Busacca made the conscious decision to end the contest by sending off Robin Van Persie. 
(via philosofooty)Tags: Arsenal Barcelona Champions League Messi Van Persie Busacca
★
By Ulysse Pasquier, writing from Montreal
There will be much more than just golden statuettes distributed on Sunday as Arsenal will look to end their 6 year trophy drought against Birmingham in the Carling Cup final. Arsenal's lack of silverware since 2005 has been a talking point in the press - for what seems like forever for us Gooners - and yet it will be Alex McLeish who will have the task of ending the longest winless run with Birmingham lifting their only major trophy back in 1963. Puts things in perpective doesn't it? However Arsene Wenger has evidently felt under pressure this season breaking off with his nonchalant attitude toward the League Cup and lining up stronger sides. The Gunners will be eager to silence the critics but will first have to get past a strong Birmingham side and do so without the injured Theo Walcott and Cesc Fabregas. 
(via matchcentre)Tags: Arsenal Birmingham Carling cup Wenger Zigic Van Persie Final
★
Arsenal fans have been increasingly frustrated with the duo's performances in the recent weeks, especially following their important involvement in the Gunners' two-game cup ties against lower-league clubs Leeds and Ipswich. Arshavin and Bentdner have indeed not had the best of seasons so far with most of theirs last appearances in the league coming from the bench. The humiliating defeat at Portman Road in the first leg of the Carling Cup semi-final hence resulted in a furious backlash from angered Gooners, directed especially towards Bendavin (let's just hope that name doesn't stick). I believe however that their style of play makes them especially easy to target and scream at from your couch - and I've done my share of that - but looking at the big picture, is all this criticism justified? 
(via philosofooty)Tags: Arshavin Bendtner Should Arsenal fans Love or Hate Arsenal Gunners Wenger Van Persie
★
By Ulysse Pasquier, writing from Montreal
Arsenal ended on Monday night their calamitous recent record against the Blues with a significant 3-1 win at the Emirates. Arsene Wenger's players had to overcome the psychological pressure of having won only two of their last 18 matches against Chelsea in all competitions. Goals at either end of half-time from Song, Fabregas and Walcott allowed the Gunners to do just that and keep the pressure on Manchester United at the top of the Premier League. It was however important team changes from Wenger that led to a rather unusually inspired defensive performance by Arsenal to stop the likes of Didier Drogba, previously with 13 goals in 13 appearances against the North London club. 
(via matchcentre)Tags: Arsenal Chelsea Walcott Gunners Song Fabregas Walcott Wenger
★
By Ulysse Pasquier, writing from Montreal
If you haven't already, you should definitely listen to this week's AFR Podcast in which our writers led a very interesting discussion with guest contributor Andrew Weber (editor of ArsenalFCBlog.com and FootballNomad.com). One question that was raised is whether Arsene Wenger should consider selling Cesc Fabregas in the light of very promising - and sometimes even match-winning - performances from Jack Wilshere and Samir Nasri. With the Arsenal captain's injury problems, Nasri has indeed taken over the responsibility of bringing goals from midfield, becoming the Gunners' top scorer in the league this season after the win against Fulham. However, the two goals from the French playmaker were not only brilliant in their execution, they show just how different Nasri is from Fabregas. I therefore believe Wenger should keep both players and build a team around them as Samir Nas-a-ri is quickly becoming the kind of player Arsenal have been missing since Robert Pires. 
(via philosofooty)Tags: Arsenal Nasri Wenger Fabregas Fulham Goals